click here to see the whole range ➡️
"A place where everything swirls and curls"
Made with silver (silver plated, 925 sterling silver or 99.99% fine silver) and antiqued copper wire. With a selection of carefully chosen semi precious gemstones. Each piece is simple yet, intricate and admired all over the world. Perfect for wearing with jeans and a t-shirt or for special occasions like a wedding. Or give as a gift for a birthday or wedding anniversary.
The designs are Celtic themed, incorporating one of the oldest abstract motifs in the history of art - the spiral. Spiral patterns appear on many forms of Celtic and Pagan art and craft work. And feature in almost every one of the designs.
Made with love and care. I hope you enjoy shopping and wearing my creations.
Devon, Uk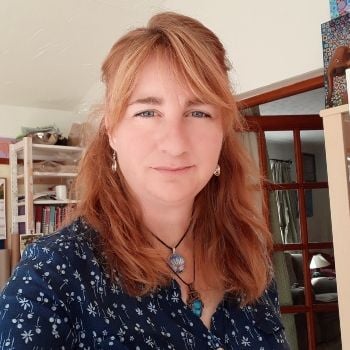 Choose from an array of unique pendants in either antiqued copper or silver. Some with unusual cabochon gemstones. Choose an adjustable cord or a chain, to complete your bespoke piece, some of which are a one off.
Sign up for our newsletters
What our customers say.....
Can you imagine yourself or someone special wearing one of these? Find your favourite
Living with an artist has its advantages, using images of his paintings I have created a new range of pendants or key ring charms. You can choose to have them in silver or copper settings, with either a matching chain, an adjustable cord or a keyring. And with 25 designs of the Tree of Life and animals, there are plenty to choose from. Click here to see the range
To visit Mark's website click the image.