Thank you for submitting the contact form.
I love to get your feedback!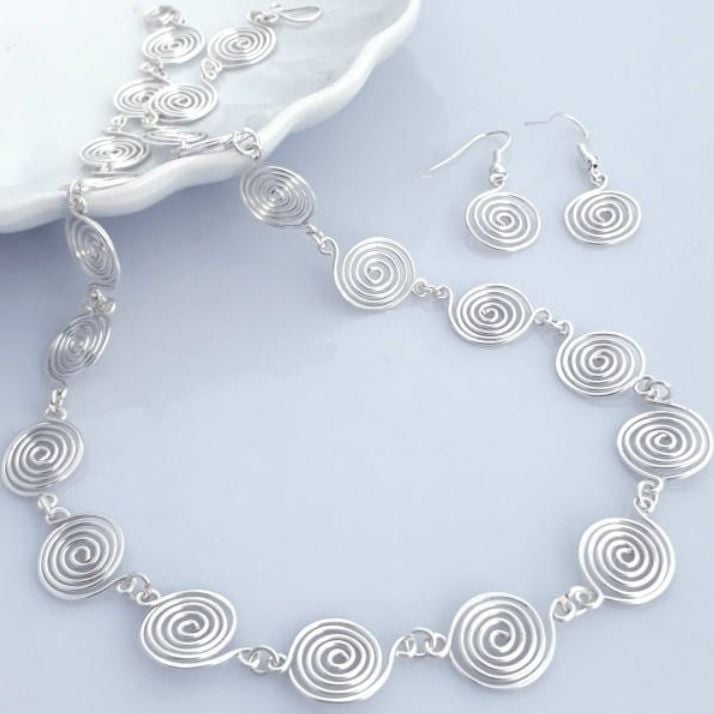 I have a thing about spirals and having spied a spiral necklace on Prof. Alice Roberts decided to look for something similar. I was delighted when I found the Spirals D'Argent website and bought the silver necklace and earrings set. I have bought the silver plated wire which is very lightweight but sits well and catches the light as it moves. Its a very orginal piece and I love it. Thank you :) Susan 09.02.22
I have just treated myself to the closed spiral necklace in silver as a retirement present to myself (my husband bought a car when he retired! ). It is the most lovely thing and should really be kept for best but I'm going to wear it everyday as it's just too lovely not to show off all the time! Fabulous quick service too. And beautifully packaged. Would definitely recommend to anyone looking for something a bit special. Thank you. Pam 02.02.22
My beautiful necklace arrived today and I love it. I am looking forward to wearing it and it is lovely to have something that is handcrafted. The necklace was excellently packaged and arrived quicker than I expected. Thank you very much Tammy. Jeanette 13/01/2022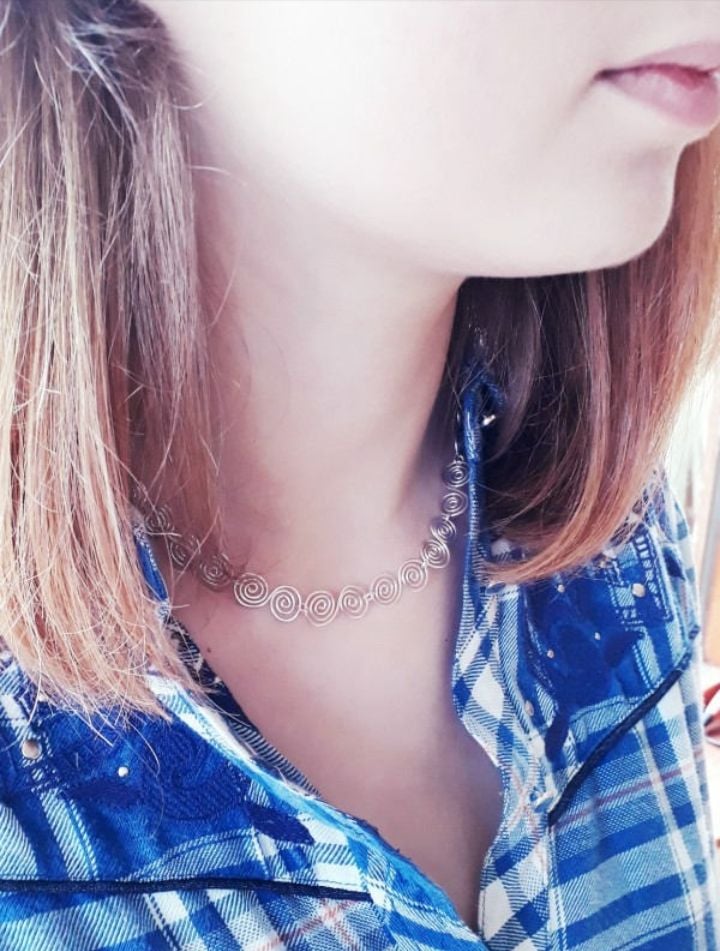 So delighted with the purchase of my silver Celtic spiral necklace. Dispatch was very quick and the necklace was beautifully packaged so it felt very much like a special gift to myself.
The necklace is beautiful and high quality and sits nicely on my neckline. I highly recommend Spiralesd'argent and won't hesitate to buy from them in the future. Hilary 25.01.22
I bought two pairs of copper earrings, they are lovely and arrived very quickly, beautifully presented … thank you
Jean 11.01.22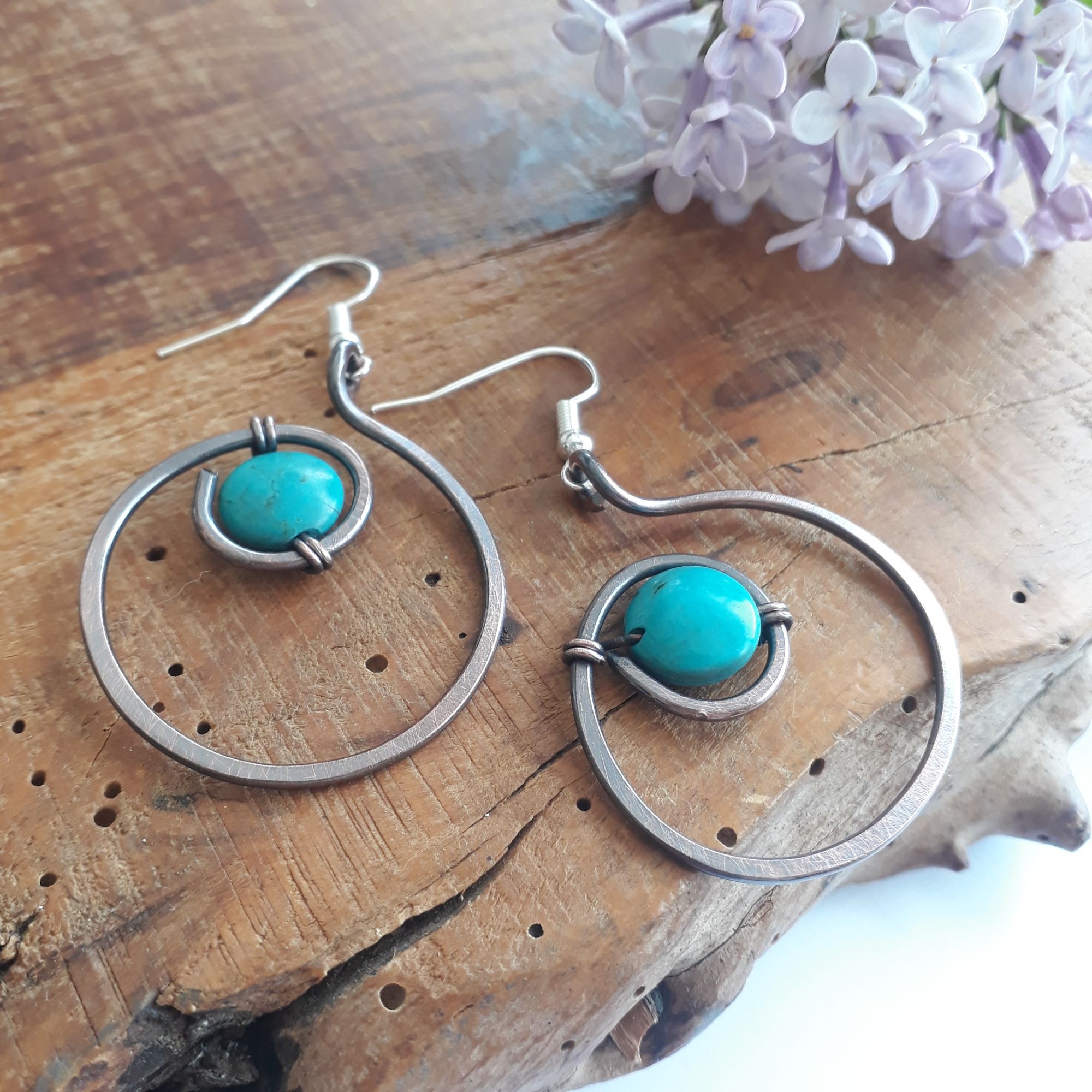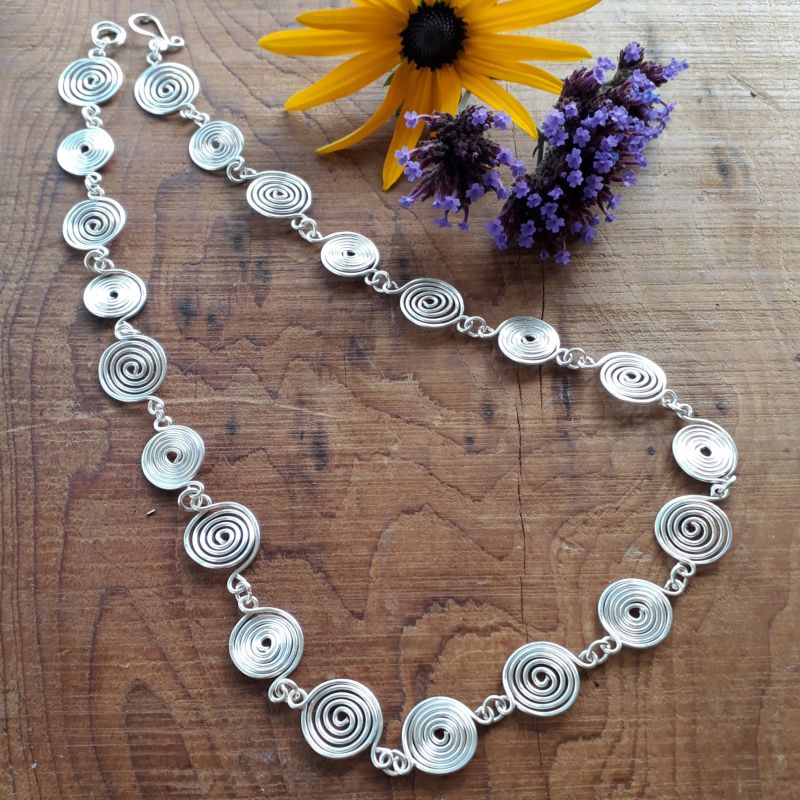 Hello I've just received my necklace from you and I'm absolutely delighted with it.I saw Alice Roberts wearing it on Digging for Britain last week and thought it was so pretty I had to have one.Thank you for getting it to me so quickly.I shall recommend you to my friends,
Yours. Jackie x 11.01.22
Hello Tammy

Just to let you know that I received my necklace today, beautifully and securely packaged. The necklace is absolutely lovely, a beautifully crafted item and am thrilled with it. Thank you.
Best Wishes Kath 11.01.22
Celtic silver spiral necklace
Tammy,
Just to say that the necklace was greatly appreciated by my wife, who loves it, and who will be wearing it as often as she can.
Again, many thanks for such a beautiful product, for your very kind and prompt service, for your kind offer of help if it wasn't the right size, and, most importantly, for making my wife a very happy owner of your Celtic Spiral Necklace !
All the best,
Ian G 06.12.21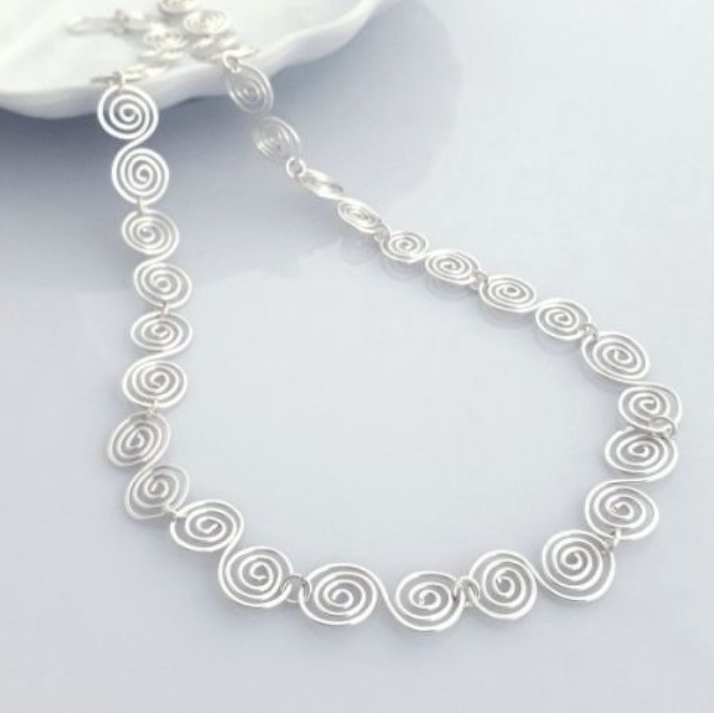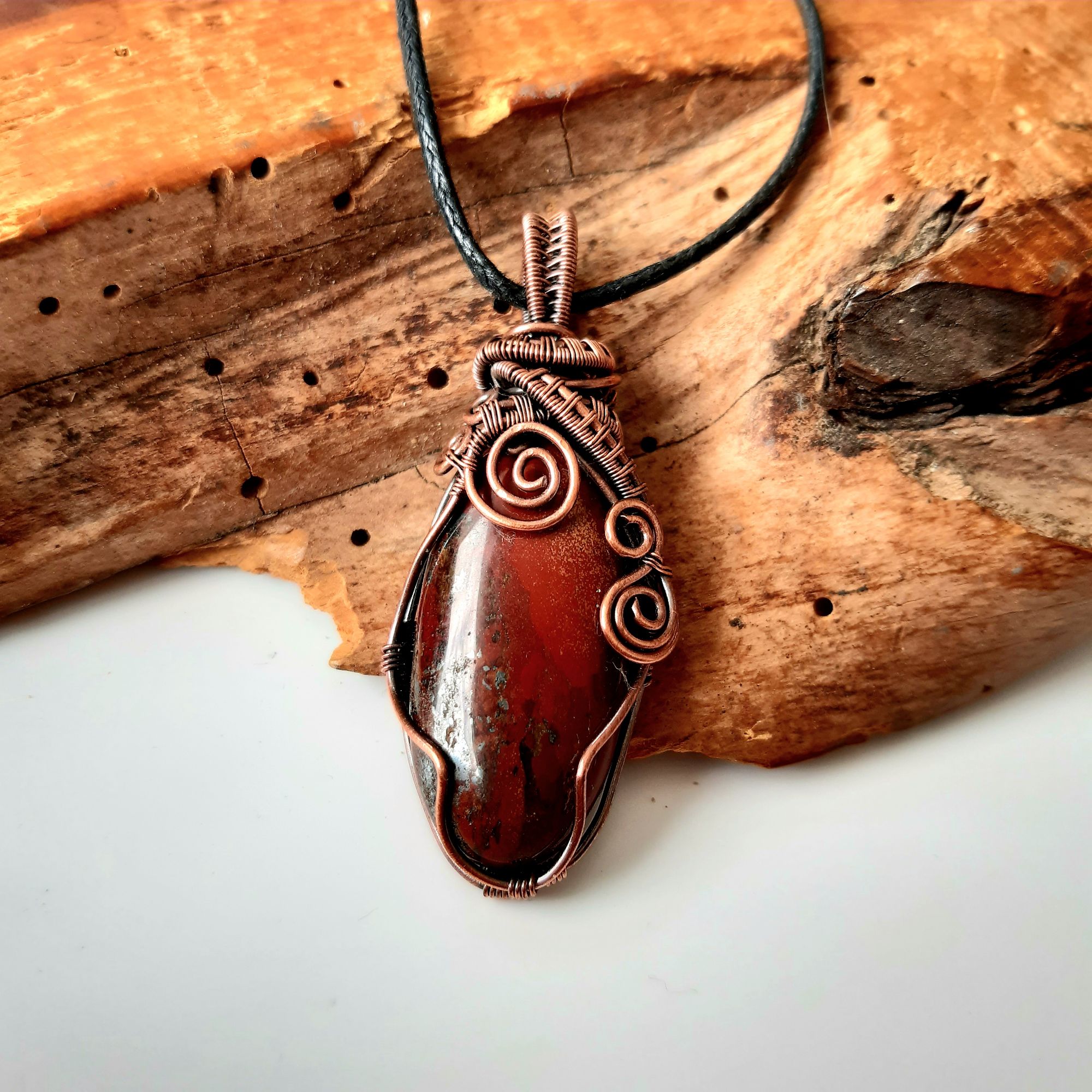 Jasper Copper Wire wrap Pendant
Hi Tammy
My lovely parcel arrived safely today, thank you. I haven't opened the beautifully wrapped bloodstone gift for Niccola but I'm sure it will be fabulous.
It was so kind of you to include a gift for me too! They are delightful and I shall enjoy showing them off to friends and family.
Enjoy your time away - you deserve it.
Lots of love
Carole xx 13.09.21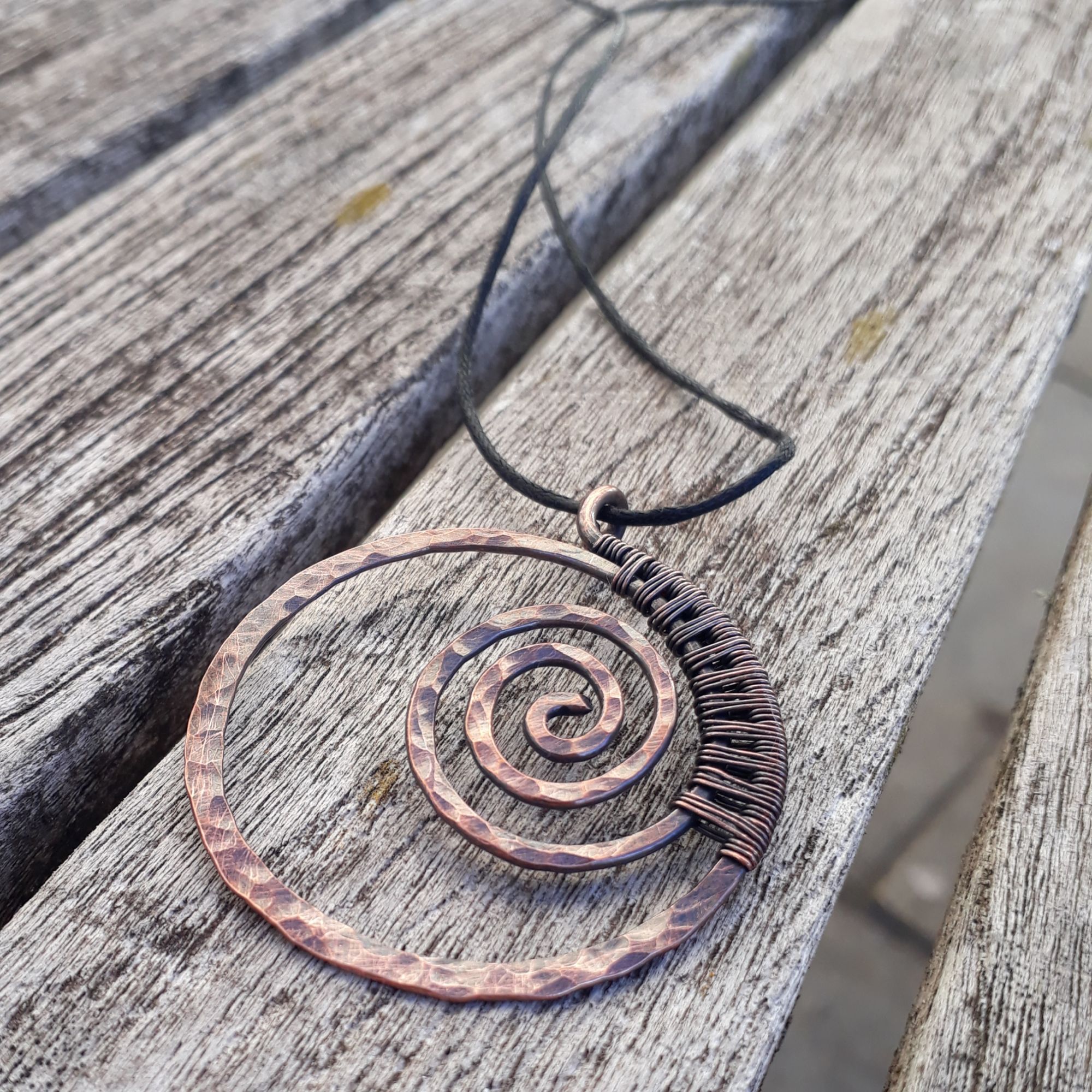 My sister-in-law loves her ammonite necklace. Have tried to copy and paste a photo of her wearing it but it doesn't want to work!! Many Thanks, Wendy 03.11.2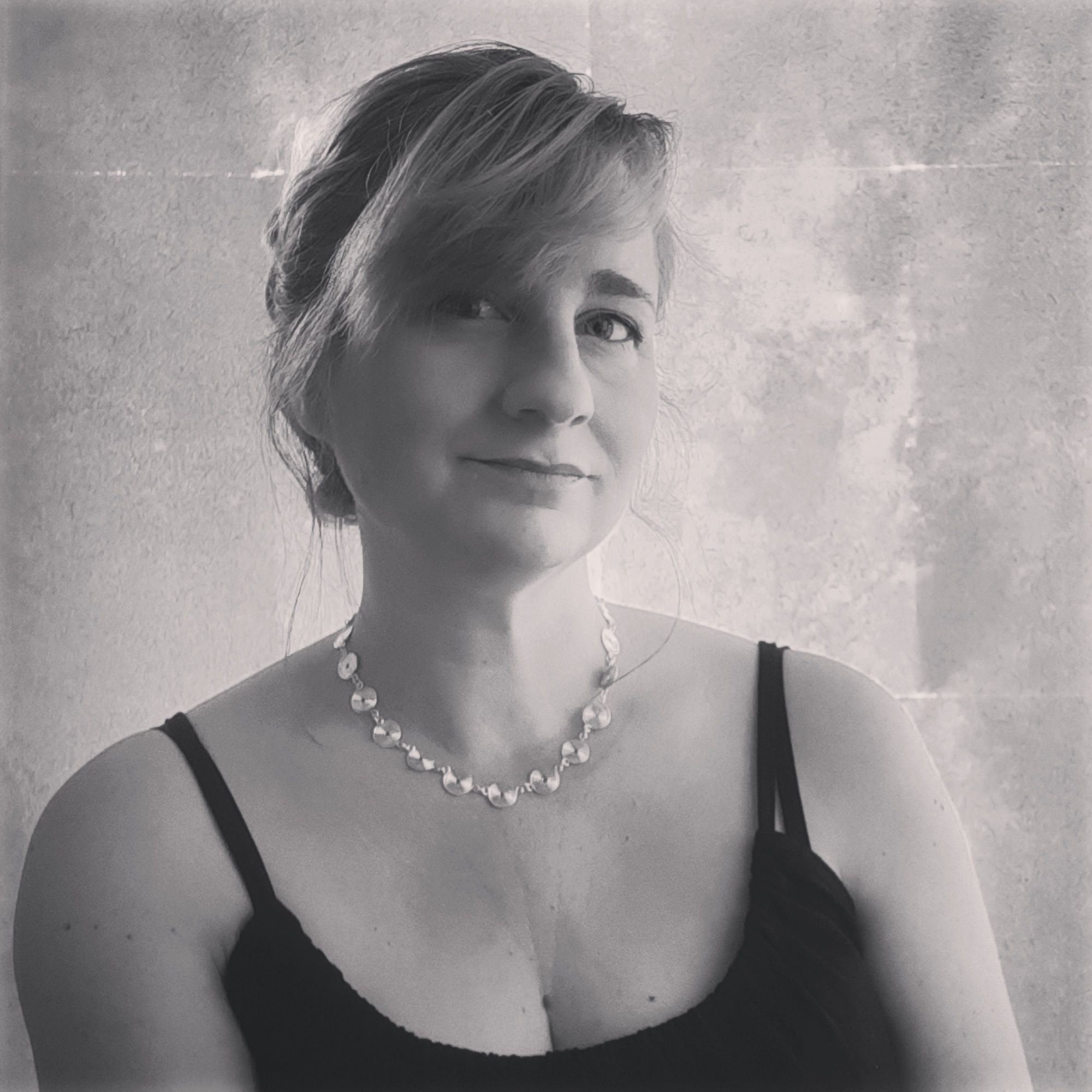 Just received my silver spiral necklace. Absolutely love it. Such beautiful craftsmanship. Thank you so much. Denise 12.10.21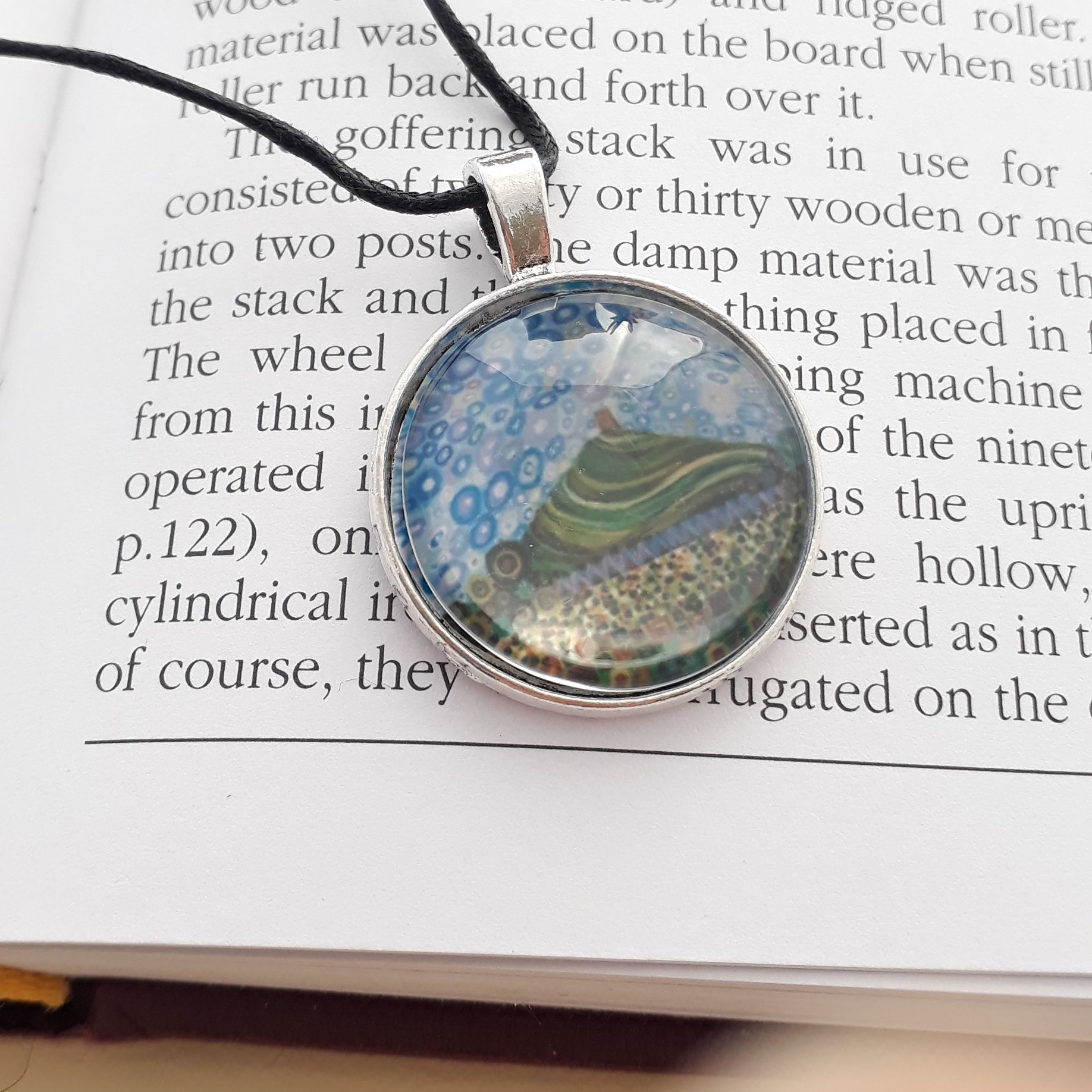 Dear Tammy, Thank you so very much for completing my order.
The presentation and attention to detail is amazing. I really am very pleased with these lovely gifts. Kelly 10.12.21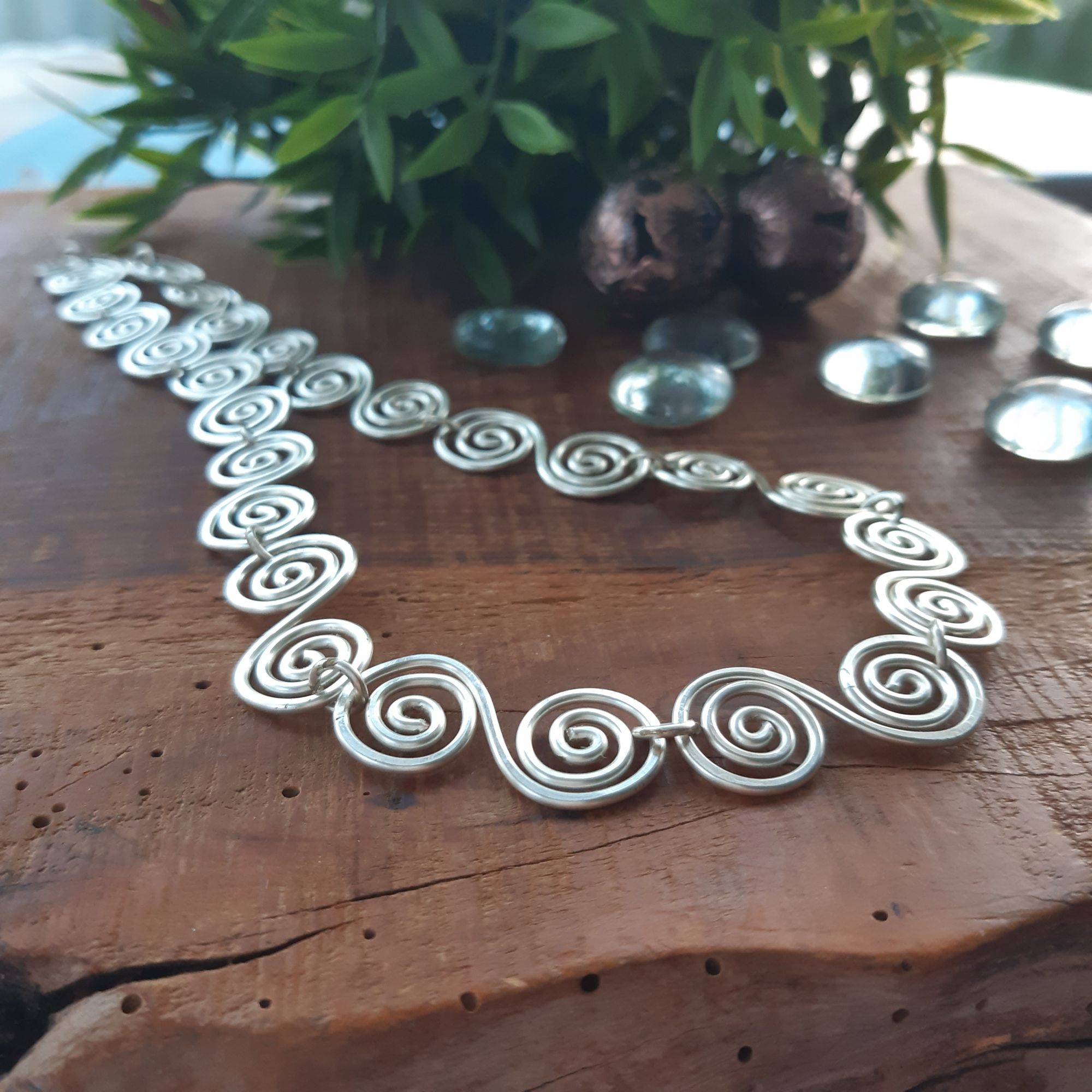 Wanted to let you know the package arrived. Thank you for wrapping it so nice. We will both be excited to open the box and see your silver work of art. Will comment on your etsy site after the big reveal. Thanks for getting it done so quickly. Kim 24.10.21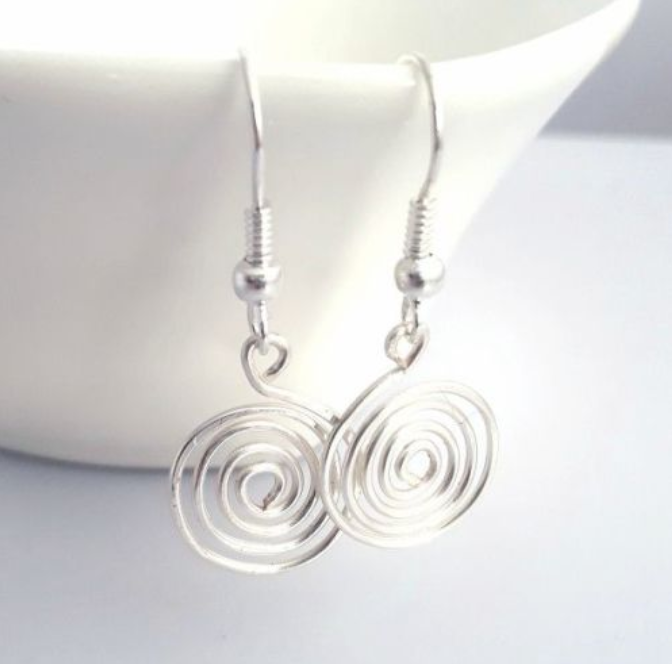 Dear Tammy, I have just received my beautiful earrings, I wanted to say thank you as they are very well made and pretty at a very reasonable price.
I will definitely tell my friends about
your website and items for sale on Etsy. Kind Regards Joanne 02.12.21
I love my Spiral necklace.
The necklace is so lovely. Each time I've worn it I feel so lucky to have it and I get compliments as well. I too was somewhat trying to mimic Alice from Digging Britain. I have done a small amount of archaeology and the necklace in some way let's me feel connected. Thank you so much for making the necklace so beautifully. Claudia 16/08/2021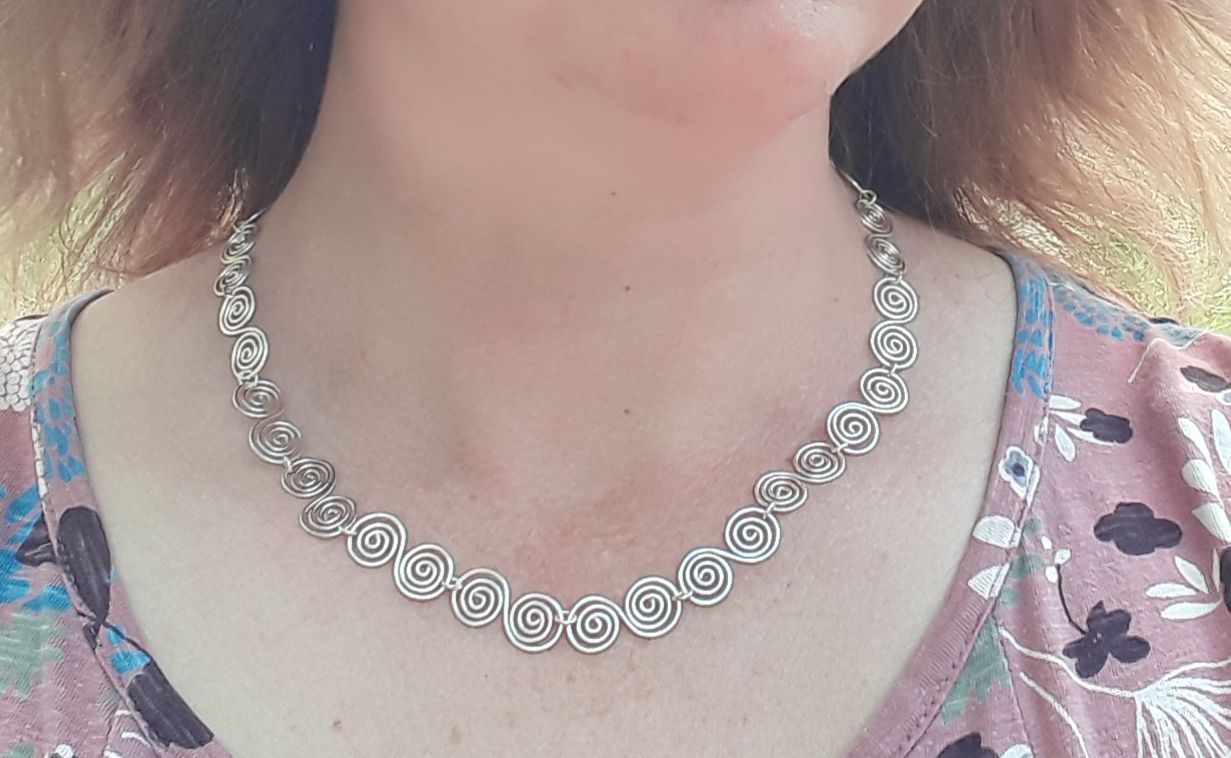 necklace arrived....love it! and super packaging such care and attention. thanks. Lynn 08/07/2021
Fab - Love this necklace so much. It looks very classy and is nice to wear. Super easy to put on and off (but hope that doesn't mean it will fall off easy as I would hate to loose it). Penny 09/06/2021
Beautiful Celtic Spiral Necklace - Thank you for my lovely necklace, beautifully packaged and received very quickly. Anne 29/05/2021 (my birthday!)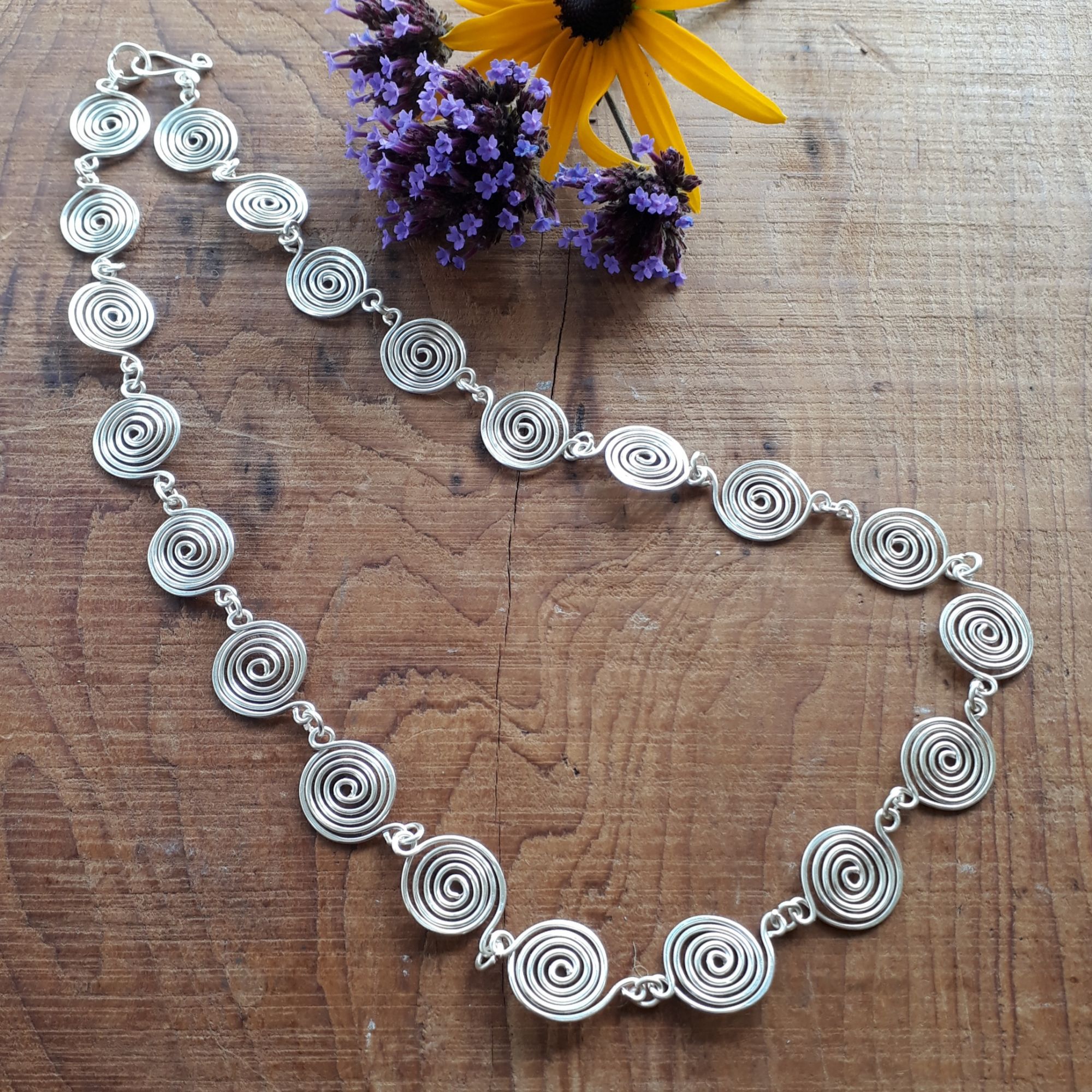 Hi Tammy, So pleased with my Celtic Spiral Necklace and earrings, a lovely set. Beautifully presented and wrapped and speedy delivery. A lovely company to deal with.... thank you Jean 19/03/21
I received my spiral necklace today and I love it. Just what I wanted. Beautifully made. I will wear it a lot, Thank you for making it so promptly. Kind regards Margaret 25/2/21
My Celtic spiral necklace was delivered promptly, beautifull presented, wrapped up with purple ribbon, complete with silver certification certificate.
It's a nice heavy feel and looks lovely.
Highly recommended. Thank you Tammy
Susan 19/02/2021
Beautiful necklace! Just as lovely as the photo. I ordered the fine silver finish. Thank you Tammy! Fay 27/01/2021
I just wanted to say thank you for the beautifully presented Glastonbury Tor key ring that I ordered on Etsy. It arrived safely this morning and I'm looking forward to presenting it to my mum on Christmas. Emma 24/12/2020
I purchased this set for my wife for our anniversary. She absolutely loved them, They are beautiful and the quality of the work is exceptional. I also received my order quickly. Surprisingly, coming through the post from the UK to the States, it took no more than about 8 days from the time I placed the order to arrival at my home. All in all, a great purchase! I'll definitely be looking to make additional purchases in the future. Steve 10/10/2020
Have been given this lovely spiral necklace as a gift from my husband and it's beautiful I am so pleased with it. Thank you. Janice 04/10/2020
Yet again, Tammy has exceeded herself. My husband bought my first piece, a silver necklace for my Christmas last year and I have just bought a pendant which came through today, and although I bought it on her Etsy site I am so thrilled with the quality and workmanship. I cannot wait to buy another peice. Thank you Tammy. Lyn 03/10/2020
From the moment I found this site and saw Tammy's designs I knew I was going to find the gift I was looking for. The spiral copper pendant is exactly as shown, it is a beautiful piece to look at and hold. Tammy let me know that it was on its way and it arrived speedily and packaged thoughtfully. I will be back to buy from Spirales d'argent again, so pleased to have found you. Thank you! Rachel 29/08/2020
I'm thrilled with this necklace from Tammy and Spirales D'argent. I'd been looking for one like this since falling in love with the similar necklace Dr Alice Roberts wears on her show. When I googled it, this necklace came up. The quality is fabulous. The silver is heavier than I anticipated. The wrapping made it even more special as it was gift to myself. Tammy stayed in touch with me every step and cutomized it for me for a little extra length. Shipping was fast and it arrived in perfect shape. I can't wait to buy my next jewelry from Tammy. I love her style. I wore this necklace yesterday with jeans and a deep pthalo blue t-shirt and my two friends immediately locked eyes on it and went "Oooo!" You really can wear it with jeans or a dress. So yeah, I'm thrilled and know I'll be wearing this often.
Mary USA 19/06/20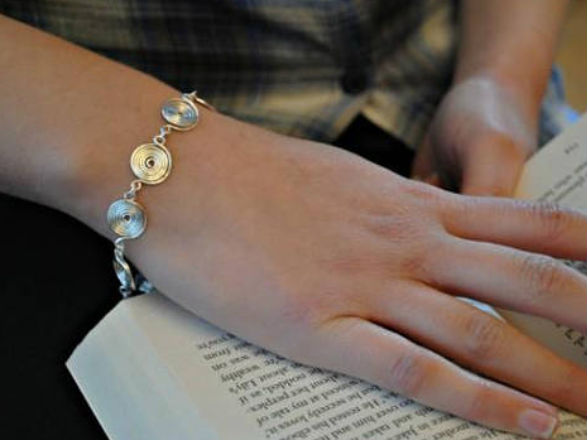 Spiral Silver Bracelet and Single Small Spiral Pendant on a leather thong,
Given to my wife as a 20th Wedding Anniversary present...she absolutely loved them.
I too, was impressed with your workmanship and eye for detail, even down to the wrapping.
Thankyou Tammy! Jeremy 17.06.20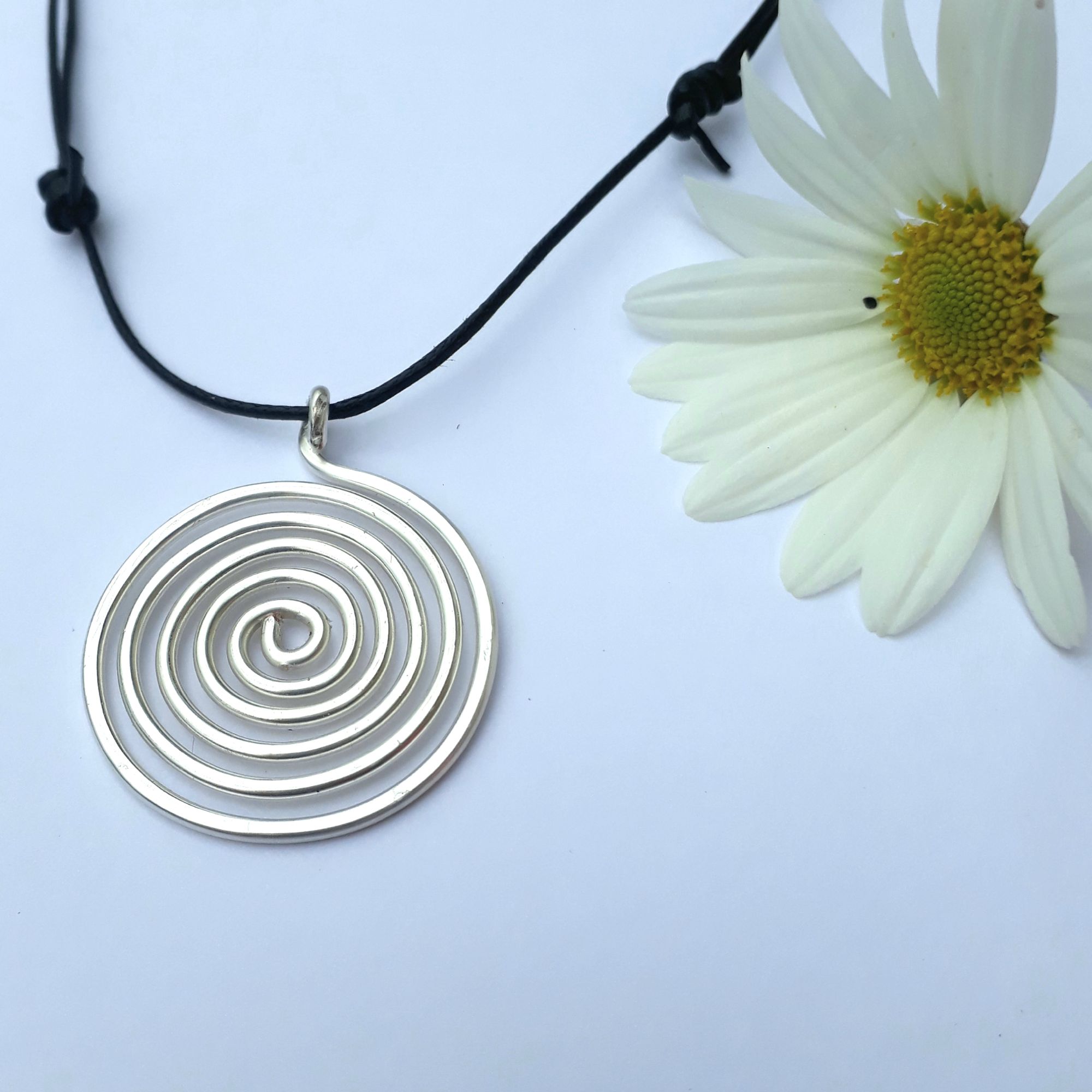 I ordered the 17 inch sterling silver spiral infinity necklace for my wife on our silver wedding anniversary. It could not have caused a bigger sensation. It is absolutely beautiful: delicate, artistic, and beautifully made. It catches the light because the wire presents so many different angles and it sits wonderfully flat on the skin. It is fascinating to look at, and really draws the eye. It is elegant and also simple: it will work for a dressed up occasion or every day. My wife absolutely loves it. I have bought her quite a few necklaces and bits of jewelry over the years but I can honestly say I have never seen her more thrilled than she is with this.
Tammy was so helpful and keen to please at every point, advising me on the best silver (which was not the most expensive) and picking the perfect length. It is a gorgeous thing to have, and good to know that it was made by a genuine craftswoman by hand. Truly special.
02.11.19 Received my copper spiral pendant very quickly. It is beautiful & I absolutely love it. Your shop is beautiful & I look forward to shopping again soon! Thank you Teryn
29.10.19 Absolutely delighted with the spiral copper necklace and earrings. Excellent communication with Tammy and very prompt despatch. Beautifully packaged too. Thank you. Jane
10.08.19 Hi
I have just received my Glastonbury Tor pendant. It is beautiful, so pleased. Will be ordering again soon.
Thank you. Margaret
21.05.19 Hello!
I am incredibly satisfied with Tammy's work. The map necklace was a real piece of art and so finely packaged, I love all the tiny details of this hard work!
Thank you a lot! Dina
19.03.19 I've been lucky enough to have been bought two necklaces - the celtic spiral in silver plate and then the the closed spiral in silver. Both necklaces arrived very quickly, and both were beautifully wrapped. The degree of thought, skill and attention to detail Tammy demonstrates is fantastic. I adore both of my necklaces and I'm sure I'll be buying and wearing more of these beautiful creations in the future. Sarah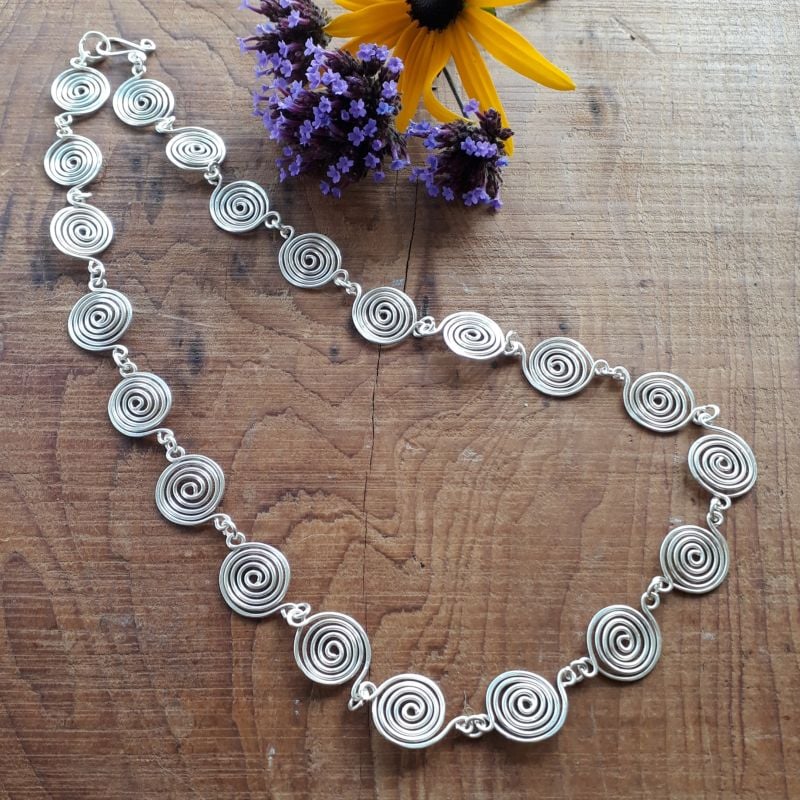 29.12.18 I bought the Spiralls Necklace for my wife and she is over the moon with it, a very smooth quick transaction, and i am more than happy to recommend Spirales d argent to anyone contemplating buying their Jewellery. had superb service from them. Dave
--------------------------------------------------------------------
29.12.18 Necklace safely received and is beautiful. Thank you very much. Liz
--------------------------------------------------------------------
14.12.18 So pleased with my silver spiral earrings received today they look beautiful. Impressed with packaging, added that little extra touch that shows Tammy enjoys creating her lovely jewellery. Many thanks. Dawn
--------------------------------------------------------------------
07.11.18 Just to let you know that I received my necklace and earrings and I am really happy with them. Liz
---------------------------------------------------------------------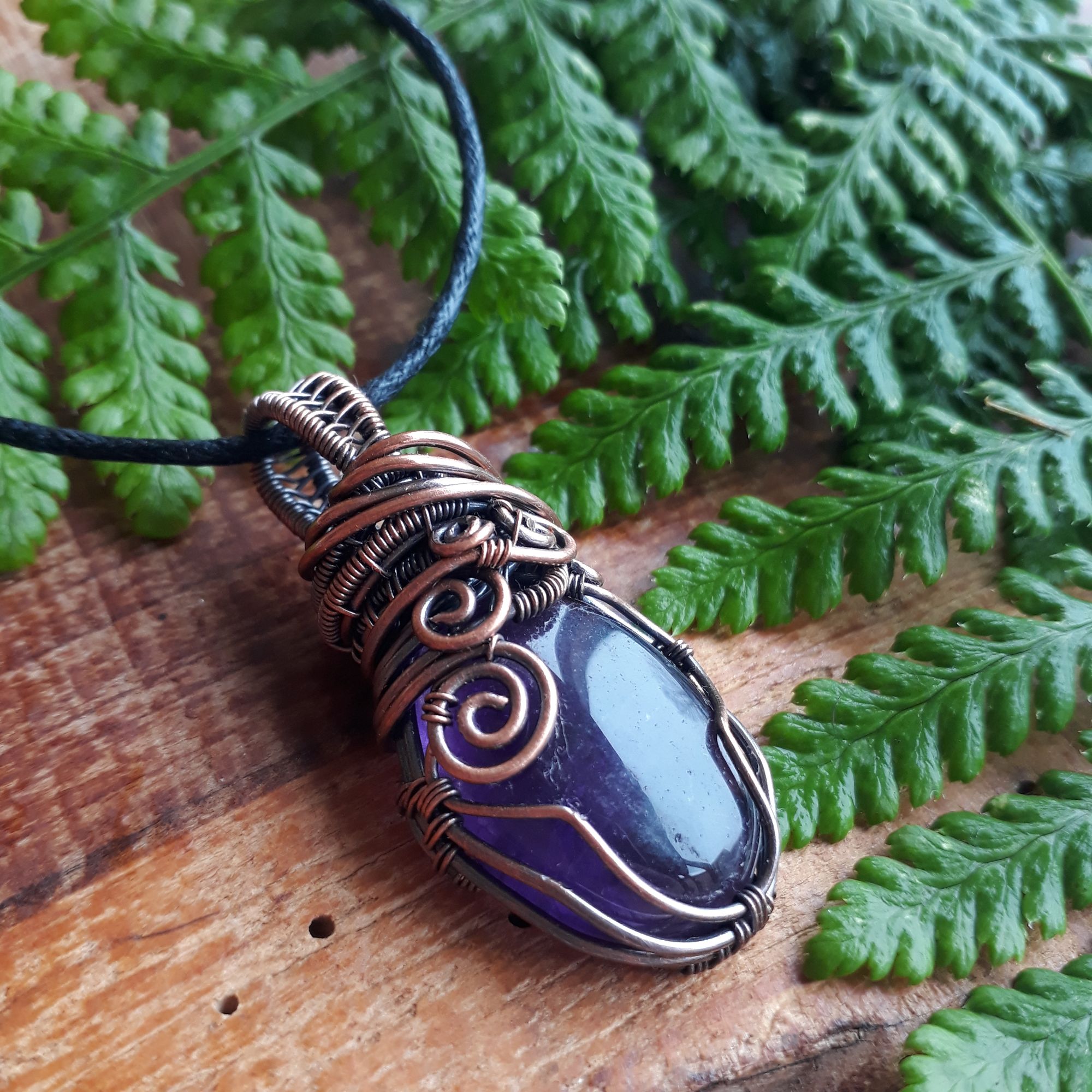 28.10.18 My family bought your beautiful fine silver spiral necklace and bracelet for my birthday. I just love it!
And....... you had it delivered to Australia in less than 2 weeks!
Beautiful jewellery and great service!
Thank you Tammy. Dawn
----------------------------------------------------------------------
03.10.18 So excited, my necklace has arrived and it's beautiful. Thank you Tammy. Susan
----------------------------------------------------------------------
04.09.18 Absolutely delighted with my Celtic Spiral necklace which I received last week, It has been admired every time I've worn it. Mary
----------------------------------------------------------------------
26.06.18 Many thanks for an excellent silver necklace. My wife is really pleased with it. Great communication and excellent service. Mark
----------------------------------------------------------------------
My wife has admired the necklace for a long time now and I found it on your website. It arrived today and she loves it. Phil
--------------------------------------------------------------------------
25.11.17 I had brought the silver plated spiral necklace, loved it so much, wanted the Sterling silver spiral necklace, which arrived this afternoon, and it is lovely, and to my surprise another necklace which works so well as a bracelet, Tammy your workmanship is wonderful. Glynis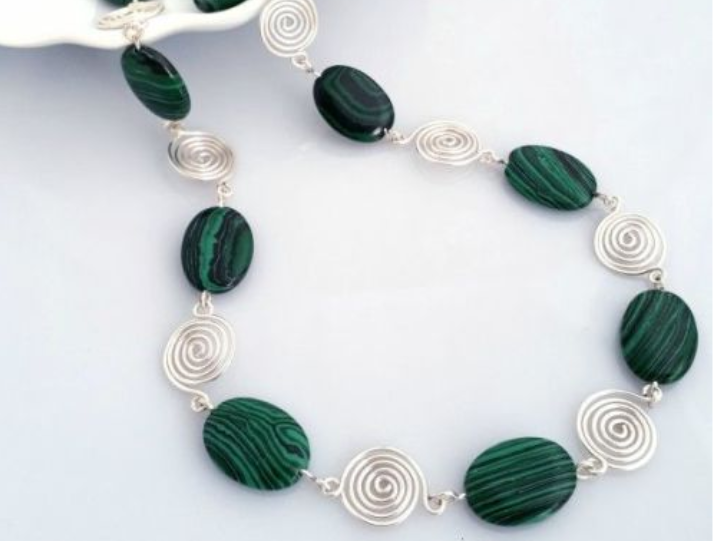 06.01.18 Hi Tammy, many thanks for getting the lovely necklace to our sister Alison in time for her birthday and for including our message on one of your husband's art cards. That was really appreciated. Alison loves her necklace and it really suits her. This is the second item we have purchased from you and we are really impressed with the quality of your jewellery and your excellent customer service. Many thanks Terry
15.11.17 Bought the spiral necklace as a christmas present for my wife, she has admired the one Dr Alice Roberts has worn for a long time (we were lucky to meet her last week) It arrived yesterday and is perfect, also a little gift too. Thank you so much
Alan
08.11.17 Tammy , I have bought necklaces for my wife before but... not really a necklace person...but "silver spiral" .... she loves wearing it with the earrings to complement it. I have to remind her to take it off sometimes. Thanks for bringing this celtic design to life. It makes her smile!
Open and closed spiral necklace
27.10.27 I received my open silver spiral necklace in the mail today and I am so happy, it is beautiful! Quick delivery and very prettily wrapped.
Thank you Tammy!
Best regards, Catherine
plain open spiral necklace
08.10.17 Received my lovely spiral necklace really fast, the workmanship was perfect. thank you Tammy.

Best Regards ,

Glynis
15.02.17 Hello,
A huge thank you !
Prompt delivery, lovely wrapping and the item itself, a closed spiral necklace, is exquisite indeed.
It will be a lovely surprise for my partner on our anniversary. :-)
Another happy customer!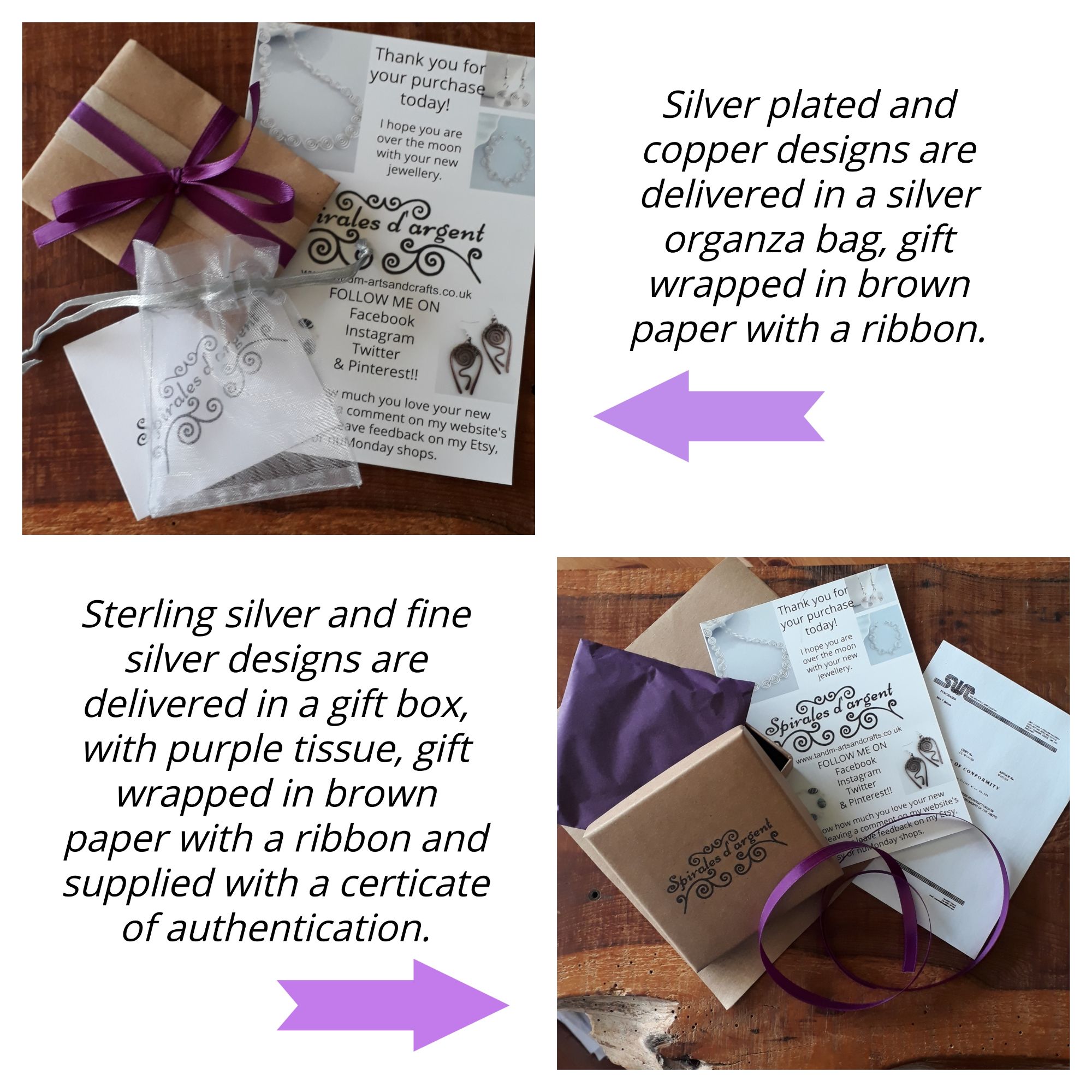 24.01.17 Received my lovely celtic necklace and ear-rings to-day. Very beautiful and very prompt service also. Thank you very much. I have 2 evening functions this week, so am looking forward to wearing them.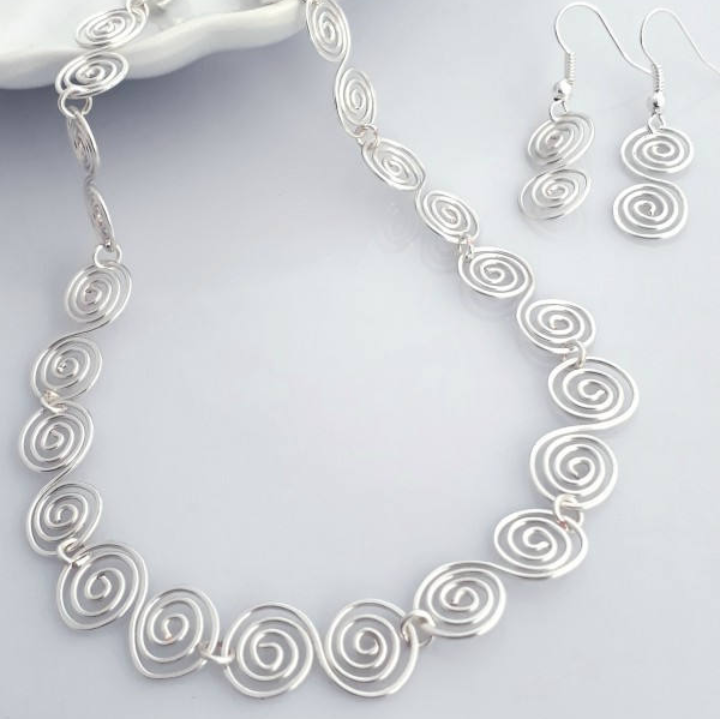 13.01.17 The necklace is so elegant and simple. Really beautiful and sits gently across my collarbone. It's very light to wear. Customer service is brilliant too. Thank you Tammy!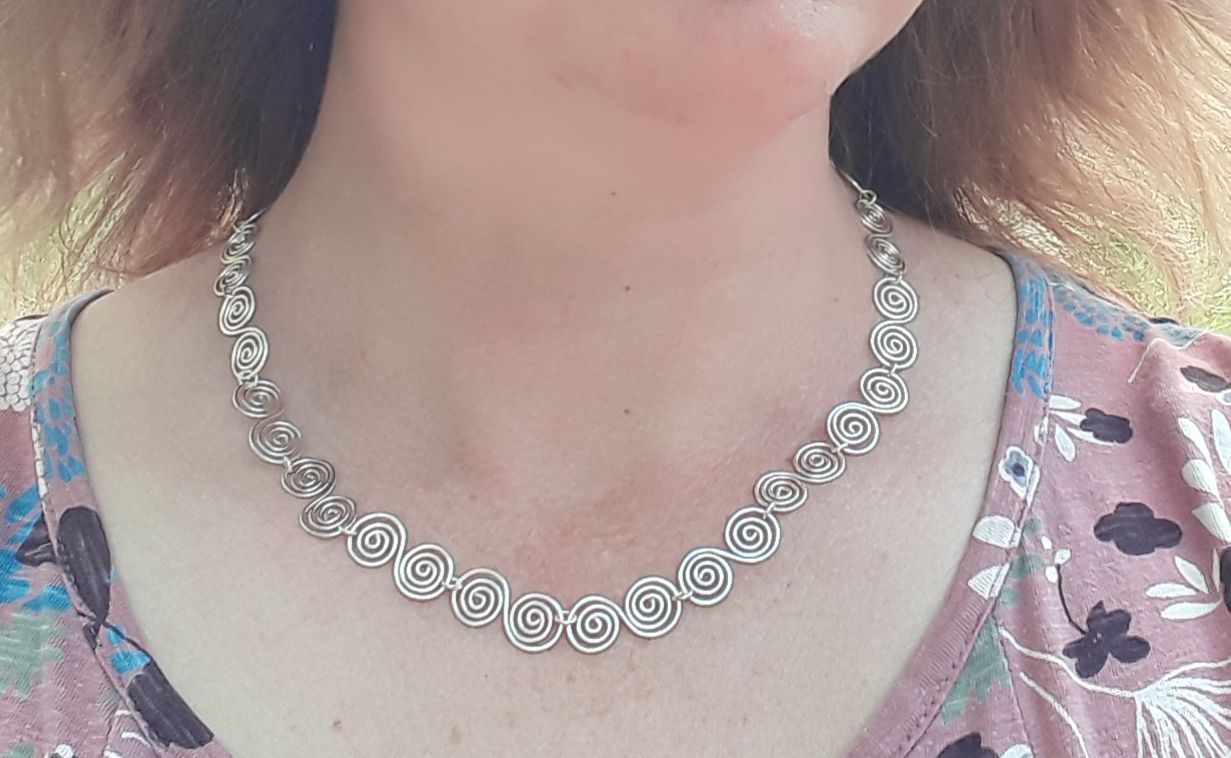 13.01.17 Just a quick message to say how lovely my Celtic necklace and earrings are. Both my husband and myself saw Dr Alice Roberts wearing a similar necklace. Great jewellery but I don't think it's turned me in to an Archeologist, I haven't started digging holes in the garden yet! Very prompt service too, thanks.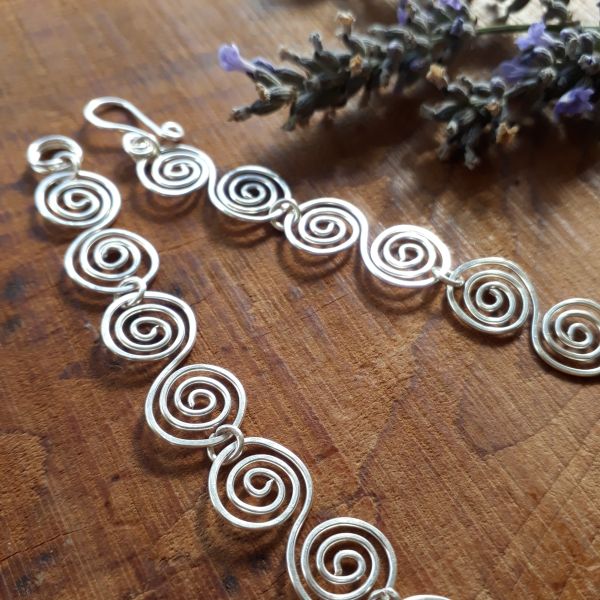 i also sell on etsy and there's more on there too!